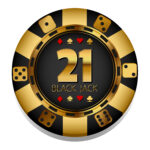 Black Jack Warrior calculator software introduction
Blackjack Warrior software is designed to assist Blackjack players in online casinos. The program is based on a basic statistical algorithm and recommends to a Blackjack player the most appropriate follow-up action based on the number of points in hand and the value of the dealer's card. The value of the dealer's open card is of great importance for the player's choice of further actions in Blackjack – it means Blackjack Warrior Software is blackjack prediction software or blackjack calculator. For this reason, it is not customary to turn over the dealer's open card.
Blackjack Warrior card counting software software will give one of the following suggestions to a player:
Hit (H) – take another card
Stand (S) – stop
Double (D) – multiply the bet by two
Split (P) – split a pair and continue playing
Double or Stay (Ds) – if possible, double the bet or stop the game
Hit or Surrender (S/H) – surrender half-time (if the rules allow) or take another extra card
Hit or Split (H/S) – split the bet; double it after the split if possible. If the rules do not allow it, we take it into our hands.
The program has three functional windows.
The first window is "Advice."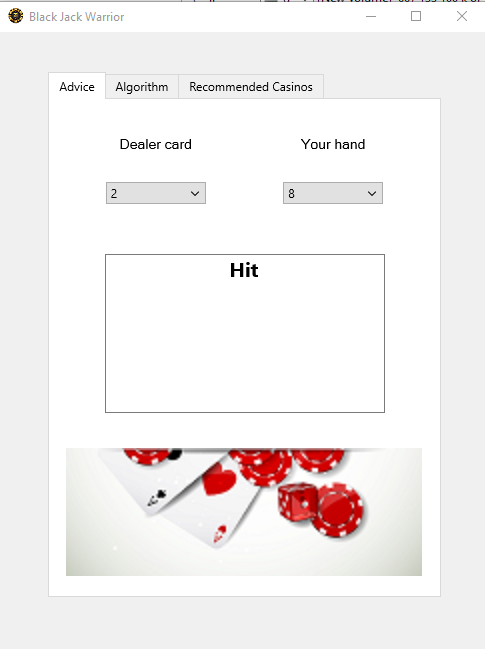 The Advice window allows a player to set the value of the dealer's open card, "Dealer card," and choose the value of his "Your hand" cards. A prompt for action will appear in the window below.
The second window is "Algorithm."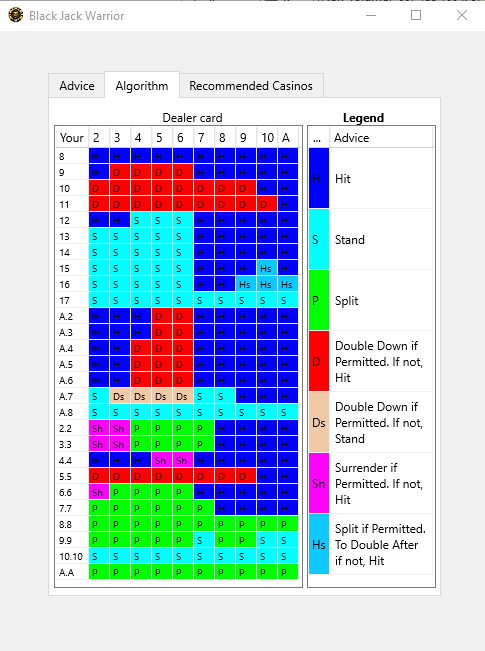 In the algorithm window, we have presented the algorithm of the Blackjack Warrior black calculator app in the form of a table. The player can find a hint for action at the intersection of the value of the dealer's open card (horizontally) and his cards (vertically).
The third window is "Recommended casinos."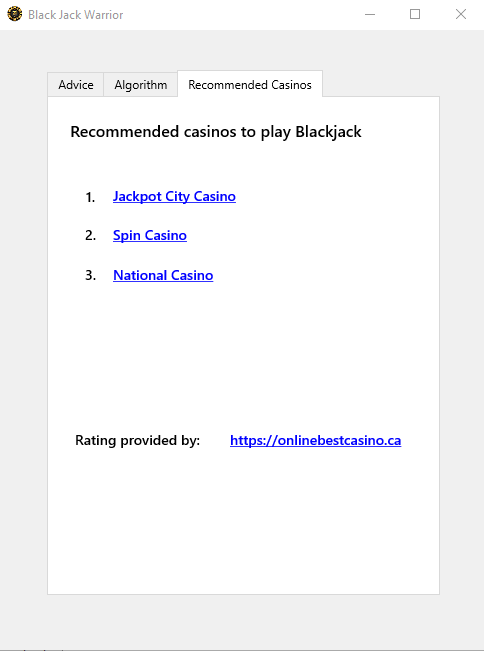 In the "Recommended casinos" window, we have selected the most suitable online casinos for you to play Blackjack using the Blackjack Warrior software. The rating is based on the most reputable review website for the best online casinos.
We would like to note that this program, like any other program or strategy, does not guarantee a player to win with a hundred percent probability but rather enables a player to learn the correct game algorithm and reduce the losses. This software is intended to use only for educational purposes as a practice tool while playing Blackjack.
We will be glad to hear your comments and recommendations for improving the program – so, please leave your feedback.
We will also be very grateful if you share a link to our page on social networks. It will help us develop this project further and create more complex programs to help you play online casino games such as roulette, poker, and slots.
| | |
| --- | --- |
| Download Black Jack Warrior card counter 1.0.0.0 for Windows from Softpedia | Download for free |
| Download Black Jack Warrior card counter 1.0.0.0 for Windows from Amazon S3 | Download for free |